Specialist High Skills Major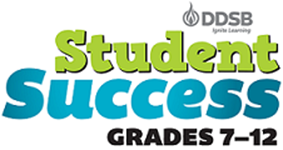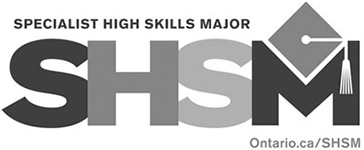 What are Specialist High Skills Majors?
Specialist High Skills Majors let students focus on a career path that matches their skills and interests while meeting the requirements of the Ontario Secondary School Diploma (OSSD). Students receive the SHSM seal on their diploma when they:
complete a specific bundle of 8-10 courses in the student's selected field
earn valuable industry certifications including First Aid and CPR qualifications
gain important skills on the job through cooperative education placements.
Who are they for?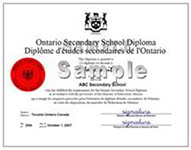 Grade 11 and 12 students who are:
heading for apprenticeship training, college, university or the workplace
wanting to identify, explore and refine their career goals and make informed choices about their next steps after secondary school.
SHSMs at our School
Business
Learn and Earn with the Business SHSM Program!
Students who are interested in running their own business, learning about about the business world and pursuing business studies at college or university, as well as those headed for the trades or the world of work, are welcome in this program. All students will have the opportunity to explore their future career fields and educational opportunities.
This SHSM program offers certifications including CPR/First Aid, WHMIS, as well as Service Excellence training and more, free of charge. Field trips to colleges, universities and businesses will allow students to explore post-secondary schools, as well as learning how businesses operate and compete in their industries. The trips will be offered at little or no cost. Participating students are encouraged to join the Business/DECA club. Students who graduate with a full "red-seal" are eligible for scholarships at some universities.
Please head to https://sites.google.com/ddsb.ca/mr-bailey-business-dept for more details or direct any questions to Mr. Bailey.
Ministry of Education Overview of Business SHSM Programs
Overview:
The business sector, the central pillar of Canada's economy, is bursting with opportunities, from positions as accountants and clerks to administrators and retailers. The business sector also offers opportunities to young entrepreneurs to aim at the international market because of globalization and new technology. As long as there is commerce, qualified and knowledgeable workers in business, students will find prospects either in one of Canada's prospering companies or as an entrepreneur in one of their own.
The SHSM-Business enables students to build a foundation of sector-focused knowledge and skills before graduating and entering apprenticeship training, college, university, or an entry-level position in the workplace. Depending on local circumstances, the SHSM in Business may be designed to have a particular focus, for example, on entrepreneurship, finance, accounting, retail, marketing, international business, economics, management and administration, or event planning. Pursuing the Specialist High Skills Major Business enables students to customize their secondary school education to suit their interests and talents while meeting the requirements for the OSSD.
This SHSM is valued by the business sector and post secondary educational institutions and is designed to help prepare students for a post secondary opportunity of their choice in this economic sector. The Business SHSM provides students the opportunity to explore, identify, and refine career goals to make informed decisions about their post secondary options. The Business SHSM enables students partake in "reach ahead" experiences that will help them gain confidence in their ability to be successful, refine skills and work habits, and make an informed choice about future careers and next steps.
Construction
Energy
The SHSM-Energy program offers students a challenging and comprehensive introduction to the skills necessary in the vast electrical industry. Students develop skills that can lead them in the right direction to a fulfilling and rewarding career in the electrical industry. Here, in a controlled and safe setting, students gain practical experiences with various materials, processes, tools, technical diagrams, and equipment.
Students enrolled in the SHSM-Energy will be involved in today's rapid and exciting changes in technology surrounding the energy sector. This SHSM has a focus on power generation and distribution, which focuses on energy production on a large scale and may include occupations such as electrical or mechanical engineer, electrician, powerline technician, or process operator. Also included in this area of focus are occupations associated with the construction of generating stations, distribution systems and residential/commercial wiring.
This SHSM-Energy program offers certifications including Basic Health and Safety, Electrical Awareness, Working at Heights, CPR/First Aid, WHMIS, and Lock-out/Tag-out. Field trips to colleges, employers and businesses will allow students to explore career options, as well as learning how businesses operate within the industry. All field trips and reach ahead activities will be offered at little or no cost to the students.
Students acquire the sector-specific knowledge and technical skills required to earn their Ontario Secondary School Diploma (OSSD) with an SHSM-Energy red seal designation by completing the five required components. Students and their parents/guardians are encouraged to consult with guidance counsellors and teachers to select the courses that will enable students to pursue their goals.
Students pursuing an apprenticeship training pathway should consider the Ontario Youth Apprenticeship Program (OYAP), which enables them to start an apprenticeship while earning their OSSD.
Students pursuing a university pathway are advised to complete their required cooperative education credits in Grade 11, in order to allow room in their timetables in Grade 12 for credits needed to meet university entrance requirements.
For more information, see your Electrical Instructor or Guidance Counsellor.
Environment
What is the Environmental SHSM Program?
The Specialist High Skills Major (SHSM) program in the Environment gives students an opportunity to specialize, gain qualifications, and plan a career pathway in various areas of the Environment sector while still in high school. The SHSM Program has a number of required components, designed to give students a "leg-up" to pursue post-secondary opportunities and careers such as a; Field Biologist, Geologist, Environmental Tech, Alpine Guide, Conservation Officer, Paramedic, Search and Rescue, Police and Military.
The SHSM-The Environment enables students to build a foundation of sector focused knowledge and skills before graduating and entering apprenticeship training, college, university, or an entry-level position in the workplace.
The scope of the environment Industry is very broad and is a component to varying degrees, of every Industry in Canada.
Environment Protection (i.e. air quality, water quality, land quality, waste management, restoration and reclamation, human and environmental health and safety, environmental protection management);
Conservation and Preservation of Natural Resources (i.e. fisheries and wildlife, forestry, agriculture, mining, energy, parks and natural reserves, natural resources management);
Environmental Sustainability (i.e. education, research and development, policy and legislation, communications and policy awareness, management for sustainable development).
Subsidized Field Trips!
Canoe Certifications
Land Navigation and GPS Certs
Wilderness First Aid and CPR
WHIMIS Certifications
FREE Outdoor Gear!
Plant and Animal ID Certs
For more information contact: Annemarie Schilling, Andrew Stuart, Syd Trefiak
Health & Wellness
If you are interested in a career in the health care field, you should consider enrolling in the Health and Wellness SHSM. The focus of the Health Care courses include: the health care system in Canada and Ontario; medical ethics; healthy functioning of body systems; diseases of body systems; medical assessment; and diagnosis and treatment of diseases.
All SHSM require two Grade 11 major courses and two Grade 12 major courses. At PPHS, students enrolled in the Health and Wellness SHSM must complete: TPJ 3M1 (Health Care), plus one of the following; HPW 3C1, HSG 3M1, HSP 3C1, HSP 3U1, SBI 3C1, SBI 3U1, SCH 3U1, SPH 3U1 at the Grade 11 level AND TPJ 4M1 (Health Care) and HBB 4T1 (Introduction to Psychology in collaboration with Durham College) OR TPJ 4M3 AND one of the following; SBI 4U1, SCH 4U1, SPH 4U1. Students must also complete both English and Math (part of their diploma requirements), and an additional science or social science/humanities course and a two credit cooperative education placement in which to connect their classroom learning to.
The following certifications are offered through PPHS' Health and Wellness SHSM:
Cardio-Pulmonary Resuscitation -CPR C

AED

Standard First Aid

WHMIS

Infection Control

Communication Skills

Medical Terminology

Concussion Awareness

Ethical Considerations

ICE (Innovation, Creativity, Entrepreneurism)

Allergy Awareness
Reach Ahead and Experiential Learning Opportunities in previous years have included:
tour of Port Perry hospital

tour of a local Long Term Care facility

Trip to Sunnybrooke for the Preventing Alcohol and Risk-Related Trauma in Youth (PARTY) program

Visit from the Durham EMS

Presentation at the Teen Health Clinic by Durham Public Health

Trip to a Health and Wellness Fair

Science Centre Human Body exhibit

Physical assessment on electronic manikins

Practice taking vitals
If you have any questions concerning the HEALTH AND WELLNESS SHSM, please speak to the Health Care teacher or a Guidance Counsellor!
Hospitality & Tourism
Hospitality & Tourism Checklist
Transportation
Now in its fifteenth year, the Transportation (Automotive) SHSM at Port Perry High School is very proud of its hundreds of graduates who have moved on to a career in the 'motive trades.' Students who have completed this program are now enjoying life long, satisfying and very well-paid positions in careers such as Automotive Technician, Heavy Truck/Coach Technician, Heavy Equipment Technician, Auto Body/Paint Technician, Small Engine Technician, Aircraft Technician, Elevator and Lift Technician, Automotive Detailer, Heavy Equipment Operator and other related trades. We are extremely proud of our graduates who remain in the GTA, work across the province, those who have taken their skills and now enjoy working and living across Canada and even the globe.
Thanks to the funding from the Ministry of Education, students who partake in this two-year program are far better prepared as they earn Certifications in WHMIS, CPR/First Aid, Automotive Health and Safety (Basic), Safe Hoisting Techniques, as well as Lockout/Tagout Certification. Senior Auto Classes ('Majors'), as well as a two or four period Cooperative Education experience linked to the Transportation Sector, better prepares a future Tradesperson for their chosen careers and makes them a far, far better applicant for any Apprenticeship position.
Speaking of Apprenticeships, this program couples perfectly with the Ontario Youth Apprenticeship Program (check out this link:
https://oyap.com/why-apprenticeships/) meaning that an SHSM student can start their apprenticeship in their Grade Twelve year and get high school credits for doing it!!!
In addition to sector recognized, specialized training and the linked Cooperative Education opportunity, students will also take part in exciting and inspiring 'Reach-Ahead' activities which further enhance the student experience in this program. Students visit places such as: the Toyota plant in Oakville; the Tesla Dealership in Yorkdale; Nurse Cadillac in Oshawa; the Durham Skills Training Centre; the Fleming Skilled Trades Facility; the Fleming Heavy Equipment Facility; the Centennial College Motive Trades Facility and many more.